Deciding between vinyl (PVC) and ornamental aluminum fence can be difficult for the average buyer. Several factors must be taken under consideration before making a well informed selection. These aspects are: desired level of privacy, perimeter security needed, ongoing fence maintenance, gate configuration, fence cost, and fence color selection.
Privacy: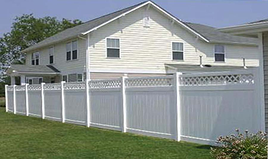 When it comes to privacy, vinyl fence pulls ahead. With fence heights reaching up to 6' or 8' and its solid state, vinyl is perfect for back yard fence, pool enclosures, perimeter fencing, and dumpster or mechanical enclosures. Aluminum fence can only offer similar privacy if fill-in panels are added. However, these panels take away from the traditional ornamental look of the fence.
Gate configuration:
For many buyers, larger gates are a must have. With ornamental aluminum, these demanding sizes can be met. Aluminum gate sizes vary from 3' wide walk gates to 30' wide slide gates. Features such as self-closing hinges, pool latches, magnetic latches, and gate operators and access controls for larger fences all work wonderfully with aluminum fence. Aluminum gates also work to meet standardized pool codes. Vinyl Gates are only manufactured in sizes from 3' wide single panel swing gates to 12' or 16' wide double panel swing gates. Large gates are usually constructed with pipe posts and frames, to which the vinyl fence panels are then attached. Vinyl products are rarely used in automated systems.
Maintenance:
Requiring little to no maintenance vinyl has a slight edge over aluminum. Though ornamental fence is also low maintenance, a simple occasional wash with soap and water is all it takes to keep this vinyl as beautiful as the day it was installed.
Security:
Ornamental aluminum definitely takes the lead when it comes to security fencing. Due to its limitations, vinyl fence cannot meet the material conditions for large gate uses. It simply cannot be made as security conscious as it aluminum counterpart. When looking to improve security of an office building, and apartment complexes, commercial and industrial grade aluminum fence is always the best choice. Heavy duty and decorative gates can easily be equipped with automated electric operators and access controls for additional security measures and ease of operation. Residential grade aluminum fences are somewhat less secure, but are still an ideal solution for keeping children and pets in or out of the back yard.
Cost:
The cost of installation for either material is about the same, relative to size. Naturally, the price goes up as the size of the fence increases. Large ornamental aluminum gates will cost more than smaller sized vinyl ones.
Color selection:
Ornamental Aluminum Fences are available in a variety of styles, sizes and grades for almost any fence requirement. The standard powder coating colors - green, brown, white, and black - give years of attractive protection. Ornamental color variations are currently being increased but specific suppliers do produce custom colors. Although most vinyl fences are white, many manufacturers now offer several color selections as well as wood grain and textured surfaces.
Once these aspects have been taken into consideration, you can make an informed decision for your fence solutions, whether it is vinyl or aluminum.
Article contributed by Michael Fugere.