---
---
---
---
---
---
---
---
---
---
---
---
---
OUT COME THE SUMMER WHITES:

FOR AN EYECATCHING POOL ENCLOSURE THAT'S BRIGHT, MODERN & UNIQUE.
This week marks the official beginning of the Summer 2016 Season.
As you embark on your summertime adventures, remember that your pool fence isn't just a safety necessity limited to HOA regulations and pool codes. It can be just as eye catching as your main attraction.

White Aluminum Fence is just one of many unique options for Residential Fencing. See our gallery and Ornamental Aluminum page, then contact us to schedule your free estimate. We will design and install a pool enclosure that even the Joneses will be scrambling to keep up with.
A Two Rail White Aluminum Fence enclosure option is a modern finishing touch to this beautiful pool and grounds in Richmond, Virginia.


Get down to the nitty gritty of pool codes and requirements with Hurricane's Weekly Fence Post Tons of info on pool fencing and commercial fence applications.
---
TWO BECOMING ONE: WELL KNOWN WEST END APARTMENT COMPLEX UPDATES FENCE SECURITY AS FIRST STEP TOWARDS A SEAMLESS MERGER

---
INDUSTRIOUS
ACCOMODATIONS: WEGMAN'S NEWEST LOCATION IN SHORT PUMP PREPARES TO WELCOME THE TYPE OF CROWD ONLY

HIGH

GRADE STEEL CAN

CARRY.

OMEGA WELDED WIRE: SECURITY FENCE SECURES VCU HEALTH'S MEGA DOWNTOWN PARKING DECK
Make no mistake, VCU and Hurricane Fence in Richmond are diligent in their collective efforts to keep Richmonders safe.
More than minimal and functional, this Omega welded wire fence incorporates a top angle wire application making the multilevel parking deck next to MCV's medivac pad nearly impossible to scale.
Learn about Welded Wire Fence Systems & Solutions
---
POOL RULES & INSURANCE: FOR SUMMERS THAT GO ALONG SWIMMINGLY
---

Sure it's starting to get beautiful out there, but if you live in Virginia, you know that the heat wave is just around the corner. It's become the inevitable norm, but you won't let it stand in the way of your lifelong quest for summer fun. With this year's tax return burning a hole in your pocket, you've decided to invest in the absolute best way to beat the heat.
You've wanted a pool forever. It's been in the back of your mind since childhood, and now its actually happening.


---

With all that anticipation and excitement it can be easy to miss some of the details that
will allow your pool project to go off without a hitch.
In other words, you need to do your homework.
PITT FIELD FENCE: HURRICANE FENCE & UNIVERSITY OF RICHMOND SEAL THE WIN
FOR SPRING 2016
TUNNEL VISION: THE I-264 DOWNTOWN TUNNEL IN PORTSMOUTH, VA GOES FROM EYESORE TO EYE CATCHING

The Downtown Tunnel on I-264 is the oldest of two tunnels that cross the Elizabeth River. The Downtown Tunnel links Norfolk and Portsmouth. The first of two two-lane tunnels opened in 1952 and the second in 1987.

Along with the Berkeley Bridge, which connects I-264 and I-464 on the Norfolk side of the tunnel, the Downtown Tunnel carries more than three million vehicles a month.

---

Client: Elizabeth River Crossing Purpose: Additional Security & Visual Appeal Manufacturer: Ideal Aluminum Rail

---

Materials: Top Rail, Bottom Rail, Cover Plate Picket, Self Tapping Flange Plate, SS Socket Head Cap
STONE BREWERY TEMP FENCE PHASE: CONSTRUCTION THROUGH WINTER 2016 MEANS RVA WILL GET A COLD ONE BY SPRING
The Richmond Economic Development Authority will be Stone Brewing Co.'s landlord at its new brewery constructed and designed by Hourican Construction.

The EDA will develop and lease the property to Stone, where brewing is scheduled to begin in January 2016.

Stone Brewing Company is a California-based craft brewery and chose Richmond for its East Coastproduction brewery and distribution facility.

The project encompasses 200,000 square feet on 14 acres of land in the Greater Fulton community. In addition, there will be a riverfront restaurant and beer garden that are expected to follow a few years later.


DOCK ST. PUMP STATION SHOCKOE BOTTOM, CITY OF RICHMOND
Richmond 2015 was such a great opportunity for our city and for us. we were able not only to prevent several wrecks, but to offer the public the chance to get close to the race without impeding traffic or feeling fenced in.
On day 4, we watched the time trials sail through Shockoe Bottom. At one point, Dock St. was engulfed by Three unique Hurricane Fence projects different and specific in their security enclosure intentions.
Before the founding of Richmond, Shockoe Creek ran through what is now the Bottom and drained into the James River. In the 1850s, Shockoe Creek was directed through a series of arches that ran beneath the East-West streets from Marshall to Dock St.
More pictures of The Pump House Here!

In the parking lot across the street, the Dock Street Pump Station sits like a huge windowless gray post, obscuring the giant machines that when powered kick 75,000 gallons of water and sewage out through a 60-inch pipe every minute. Being the lowest point on the north side of James River, the Shockoe Bottom area is subject to flood from both the James River and interior rainfall event.

In 1994, the City completed the flood wall project which protects Shockoe Bottom from the river flooding. Since then, business and development have quickly thrived in the bottom area.

However, it has been observed that the low-lying areas in Shockoe Bottom, such as Pine Alley, Walnut Alley and the Farmers Market, have experienced local flooding more than once in a two-year period

After Hurricane Gaston, Richmond overhauled it's pump and reservoir facilities so that natural disasters don't jeopardize the businesses , residents and patrons of Shockoe Bottom from 17th St. Market to the near East End.

The Government Fence Upgrade with Ameristar Impasse K Rated Security Fencing was provided by the City of Richmond. It continues to enable a long term benefit to residents, businesses and commuters that rely on Historic Historic Shockoe Bottom for their daily activities.



---

Hurricane Fence Company is Blue Ribbon Contractor with BBB & OSHA Accredations. We have been a local and regional fence provider since 1994. Our vast expertise in sustainable security fence applications ensure that not only will you get the fence enclosure you need, but the fence solution you want.

---
---
---
RICHMOND 2015 UPDATE
The party may be over, but Hurricane Fence has loads of images from the Barricades Eye View (and even a few Rooftop gems. Again, we are very honored to have been a part of this Historic Event that brought in more than 600,000 visitors from all over the globe. Thanks to The UCI & Richmond 2015 Planning Committees, Volunteers and Richmond City Officials & Our Fine Fence Crew for ensuring this grand procession went smoothly. Can't wait to be a part see what our ever evolving city does next!
Neither rain, sleet, or influx of nearly half a million people can deter us from doing our part to keep our RVA safe and fun during the week long adventure that is UCI Richmond 2015.
RVA will be busting at the seams this weekend to accommodate nearly half a million people visiting Richmond, currently home to only 1.3 residents. Crews will be working literally both night and day to get our Barricades, Temporary Fencing and of course, Bike Racks positioned for the event. More pictures, and updates as they arise.
RICHMOND 2015: WELCOME WORLD!
The UCI world championships are annual competitions promoted by the Union Cycliste Internationale (UCI) to determine world champion cyclists.

Championships are held for men and for women, on the road, on a velodrome, cross-country, downhill and indoors. There are also championships for disabled competitors.

Hurricane Fence Company Inc. is honored to be a contributor of temporary fence and barricades for Richmond 2015.

The City of Richmond has worked tireless on the organization of the event's transportation layout. Roads, buses, foot traffic, parking lot access and even shuttles from Hanover County,VA have all been considered and accounted for.

Follow the Progress. Here!

Along with Richmond 2015 partners, UCI. volunteers and staff, the city has prepared a plan that will keep these crucial elements working together with the flow of the traffic without blocking in commuters and RVA local businesses.

Richmond 2015's perimeter enclosure plan calls for a streamlined location specific set up and an easily transportable of temporary fence borders. In conjunction with our good friends at Sonco Worldwide, Hurricane Fence will install hundreds of steel barricade.

This specific fence solution is a lightweight and more mobile alternative to the classic heavy duty barricade of industry's past. This fence is Ideal for delineating foot traffic or establishing a secured perimeter for bike racks, automobiles, race spectators, advertising space and combating unexpected weather.

---

---
GOOD GAME: RTC MAY BE OVER BUT OUR BIKE RACKS & BARRICADES ARE STILL ON TOUR
This year's RTC had a good run, but we think our Spear Picket 4 ft. Ornamental Aluminum that surrounds the entire facility did even better. It seems like every year not only do we step up our ability to plan, install, combine and relocate our fencing systems, but the value of our service lends itself to handling a vast number of the city's most lucrative urban development projects this side of The Recent Richmond Renaissance. Ahem, I mean "RVA" While not as cute or British as the traveling gnome, we think if fence had feelings, it would be truly excited to be a part of it all.
Check out the last pics from RTC and get ready for updates on RICHMOND 2015.
REDSKINS TRAINING CAMP 2015
The Washington Redskins are headed back to train at their new facility for year three Redskins Training Camp. All of the bells and whistles are sure to follow with fans, vendors, paparazzi and the players themselves coming and going for the next few months.
As the exclusive fence contractor for the entire facility and grounds, Hurricane Fence continues to provide all commercial temporary fencing solutions as maintenance and upkeep of all the Ornamental aluminum Enclosures and a predetermined layout for both foot traffic plan that incorporates the original installation of Ideal Aluminum's 4 ft. Spear Pickett Commercial Series of Fencing Solutions.

---
| | | |
| --- | --- | --- |
| | | |
Hurricane Fence in RVA is proud to provide fence solutions for Redskins Training Camp again this year. Last year's maiden voyage of The Redskins Training Camp allowed Hurricane Fence Company to encompass the whole facility with eye-catching Spear Picket Ornamental aluminum, chain link boundaries and Aluminum railing enclosures.
This year saw added amenities for the facility, players and patrons installing bike racks, temporary fence panels and a wind and weather resistant black mesh material dividing the parking lot in half and providing a even flow for fan traffic.
* Be sure to check out the specs for the permanent Spear Picket Ornamental Aluminum Fencing System from Ideal Aluminum. It works beautifully and seamlessly for both Residential and Commercial fence applications.
---
AHEAD OF THE CURVE: VDOT LOOKS TO HURRICANE AND SIMTEK TO MERGE INTO NEW VISUAL AND STRUCTURAL GOVERNMENT FENCE SOLUTIONS.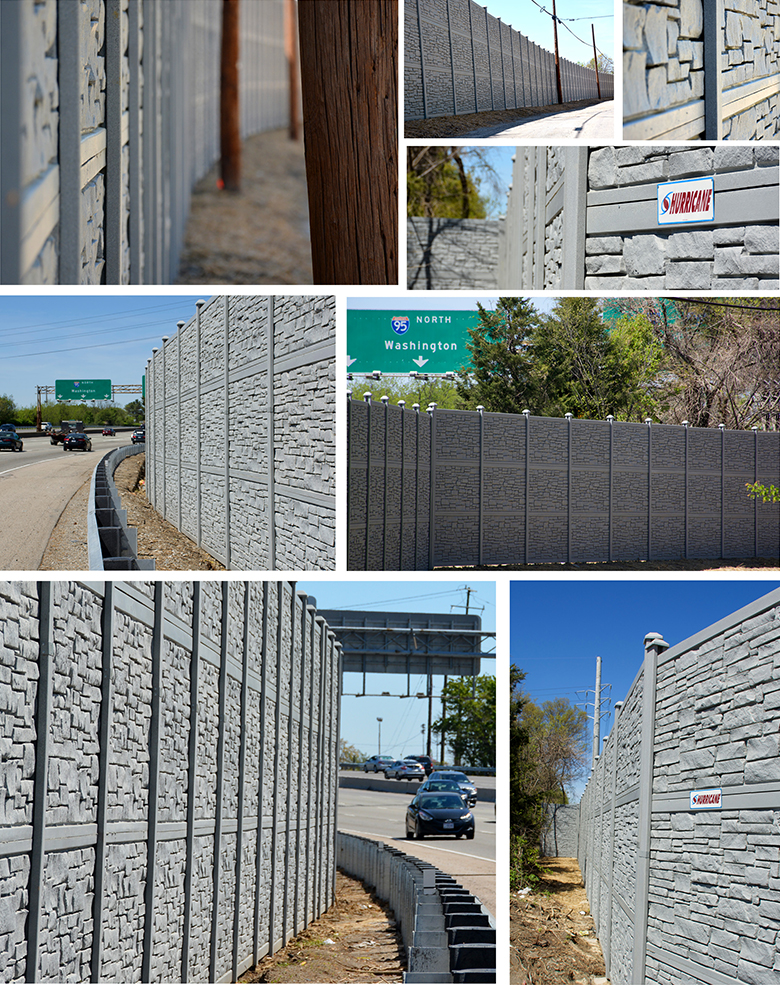 In their first commercial partnership, Hurricane Fence Company and Simtek Fence Products worked in conjunction with The Virginia Department of Transportation (VDOT) to replace an existing but dilapidated wood fence that separates the I-95 and 64 Interchange from an otherwise quiet neighborhood in Richmond's North Side.
Hurricane Fence & Simtek worked closely with VDOT and The City of Richmond to provide a low maintenance and cost effective solution for a section of the city that sees some of Richmond's most consistently high traffic throughout the day. Hurricane Fence & Simtek presented VDOT with Eco Stone; a simulated Granite Privacy Fence solution. While not a privacy fence or guard rail in the traditional sense, the new preventative barrier has versatile advantages.

Eco Stone is man-made, and it's lifespan is longer than it's wood counterpart. This attribute makes it a perfect fence solution for a location that gets its share of environmental exposures.Visually, Simulated Granite it's more appealing not only to regular commuters on their way in and out of the city, but vastly improves the neighborhood's aesthetics for its' residents.

This structure was built specifically for the Richmond VDOT project. Typically these privacy structures are not twelve feet in height. However, as specifications permit, Hurricane Fence Company and Simtek Fence Products will custom create a versatile fence structure that matches each client's unique specifications whether a Commercial, Residential or Government Fence Project.
EXTENSIVE CHAIN LINK FENCE OPTIONS FOR CITY & COUNTY ACADEMIC SPORTS FIELDS AND ACTIVITY CENTERS