HURRICANE FENCE RESIDENTIAL UPDATE: MAC EVENTS HOME AND GARDEN SHOW 2015
| | |
| --- | --- |
| | |
| This year's MAC Events Home Show took place at The Greater Richmond Convention Center the weekend of February 6-8 2015.GRCC has been a notable contributor to Richmond and Virginia's growth for many years. It facilitates a versitile and spacious environment suitable for nearly any event including fundraisers, speaking engagements, and community functions.A few years ago, Hurricane Fence Company was honored to assist with the GRCC's most recent renovation. Designing and implementing new ornamental fencing, vertical lift gates and barrier arms that are minimal on materials but heavy on security.Although the MAC Events homeshow is a primarily residential based event, our team was thrilled to see our commercial perimeter engineering in action. It continues to provide order and direction for vendor vehiicles, and consumer foot traffic. | |
While this year's show was slightly more intimate, it was full of enthusiasm and enteprenural spirit.
With an emphasis on the future of their individual industries, interactivity played a bigger role in with respect to the previous year.
Hurricane Fence's Residential team was pleased at the turn out of like-minded vendors that exhibited not only well developed products and services, but showcased the passion of their work to help guests make highly informed decisions about their upcoming spring projects.
THE BOYS ARE BACK IN TOWN!
Hurricane Fence in RVA is proud to provide fence solutions for

Redskins Training Camp

again this year. Last year's maiden voyage of The Redskins Training Camp allowed Hurricane Fence Company to encompass the whole facility with eye-catching

Spear Picket Ornamental

aluminum,

chain link

boundaries and Aluminum

railing enclosures

. This year saw added ammenities for the facilty, players and patrons installing bike racks,

temporary fence panels

and a wind and weather resistant

black mesh material

dividing the parking lot in half and providing a even flow for fan traffic.
---
AHEAD OF THE CURVE: VDOT LOOKS TO HURRICANE AND SIMTEK TO MERGE INTO NEW VISUAL AND STRUCTURAL GOVERNMENT FENCE SOLUTIONS.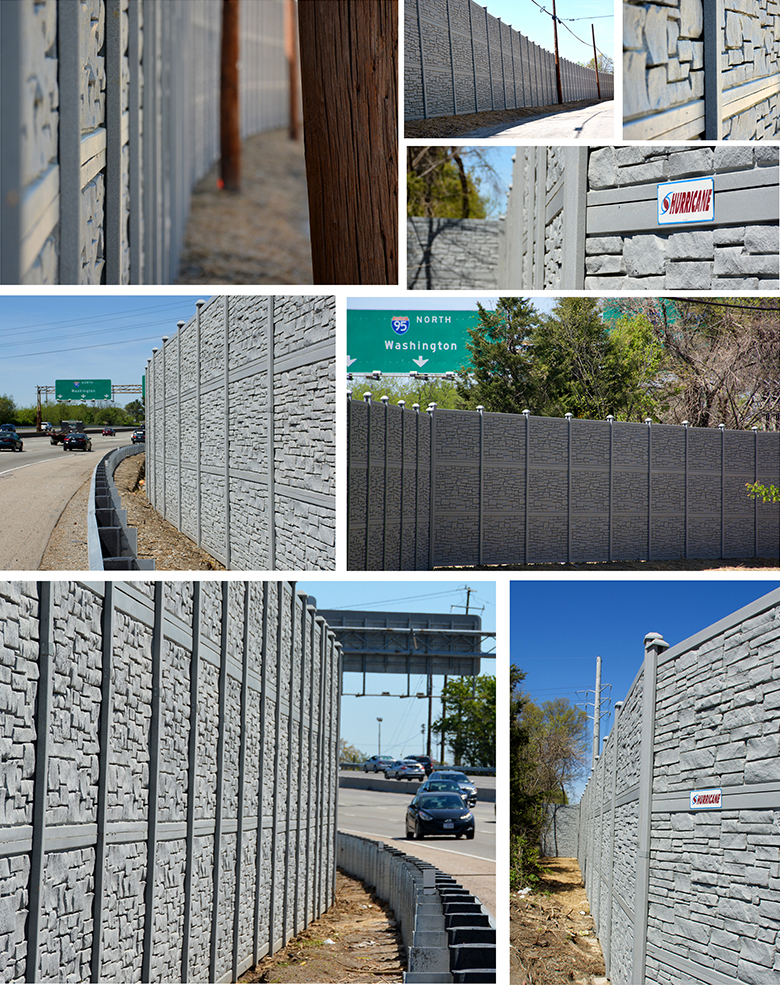 In their first commercial partnership, Hurricane Fence Company and Simtek Fence Products worked in conjunction with The Virginia Department of Transportation (VDOT) to replace an existing but dilapidated wood fence that separates the I-95 and 64 Interchange from an otherwise quiet neighborhood in Richmond's North Side.
Hurricane Fence & Simtek worked closely with VDOT and The City of Richmond to provide a low maintenance and cost effective solution for a section of the city that sees some of Richmond's most consistently high traffic throughout the day. Hurricane Fence & Simtek presented VDOT with Eco Stone; a simulated Granite Privacy Fence solution. While not a privacy fence or guard rail in the traditional sense, the new preventative barrier has versatile advantages.

Eco Stone is man-made, and it's lifespan is longer than it's wood counterpart. This attribute makes it a perfect fence solution for a location that gets its share of environmental exposures.Visually, Simulated Granite it's more appealing not only to regular commuters on their way in and out of the city, but vastly improves the neighborhood's aesthetics for its' residents.

This structure was built specifically for the Richmond VDOT project. Typically these privacy structures are not twelve feet in height. However, as specifications permit, Hurricane Fence Company and Simtek Fence Products will custom create a versatile fence structure that matches each client's unique specifications whether a Commercial, Residential or Government Fence Project.